The Danube or the Rhine? That's at the heart of the matter and something that needs to be agreed upon if I am going to make any real progress with my planning. You see, I've been wanting to undertake a cycle tour for some time and will admit, with some embarrassment, that I have been a little bit 'dressed up and raring to go' for longer than I have had the solid intent to actually do it. I've got the bike, panniers, tent and cooking equipment all stashed away in the garage and in some cases unused. Beyond a two night trip around the Isle of Wight that is!
A cycle along a major European river makes perfect sense. They tend to lead through multiple countries thus expanding the overall experience of the event. They tend to be flat, making the bulk of the weight on the bike much lesser an issue. And perhaps most importantly, due to their huge historic importance to the nations that they serve there is always much to see, do and enjoy.
It's not really a tough decision as both the Rhine and Danube are well documented cycle tour adventures and there is no shortage of people reporting on their fondness of their experience. Both are very different in length of course. The Rhine could be completed comfortably in two weeks which would be sufficient to cover about half of the Danube if the wind were behind you. I am not sure that it actually ever is.
The Rhine
Running from it's source high up in the Switzerland mountains, it's literally possible to dip your toe in the water of the alpine lake that feeds it before heading downhill all the way to the mouth at the Hook of Holland. Travelling via Switzerland, Germany, Liechtenstein and the Netherlands this is the perfect river to absorb the historic and fast developed states of Western Europe. With campsites, hotels and hostels lining the way, it really is a matter of deciding upon how long you want to do it in and riding the distance you fancy doing each day. At just over 1,300km there is a fair chunk of riding, so ultimately it will depend on the amount of time wanted on the bike versus the amount wanted being a tourist. Somewhere in-between would be about right I would say.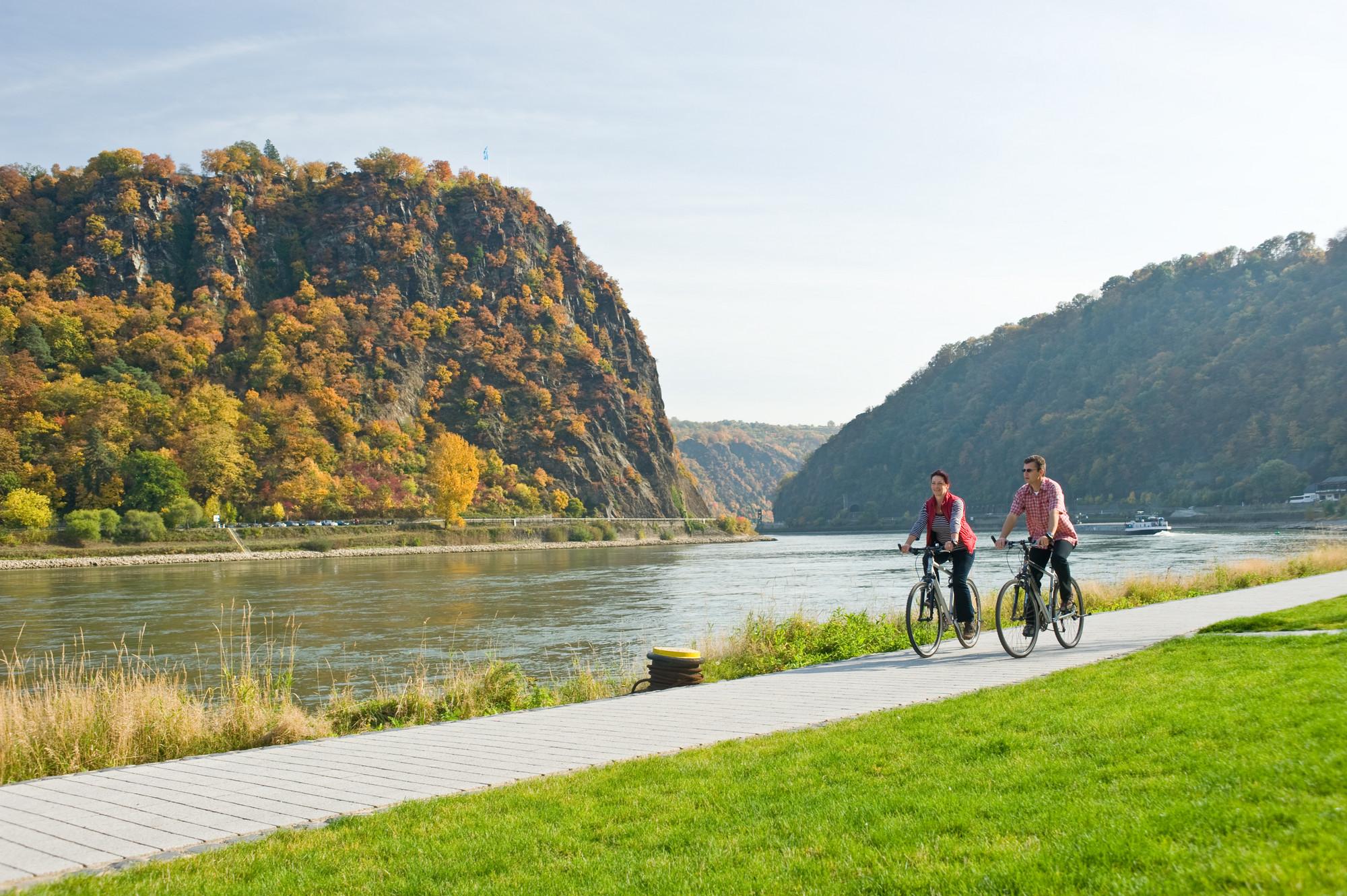 The Danube
Arguably a more romantic river to talk about as it springs from the hills of Germany before heading across what feels like the rest of Europe as it makes its way to the Black Sea. Being sensible about distances, it would be possible, for example, to join it at its first key town of Passau (in itself a beautiful place to visit) before heading through Austria to Vienna and then onto Bratislava and Budapest. It really is a matter of where do you want to stop and how long have you got that determines the length of this adventure. For some reason, I see the Danube being less miles per day as I anticipate/guess that there is simply more distractions along the way. Who knows?
The Pros & Cons
On one hand the Rhine has its advantages because you can travel back from the Netherlands on a ferry to Harwich and then make your way home on the train with your bike. Not straight forward but a lot easier than flying back with your bike in a box to an airport in the UK. Likewise, the downside is that the Rhine has that slight air of familiarity about it as it travels through countries I have visited several times in the past (with the exception of Switzerland which I have only driven through once).
The Rhine is also pretty industrial in places. Something that might turn out to add its own charm of course, but likewise, it might be like cycling through an industrial estate for two days. Its been described in such mixed ways its hard to really find out.
Which way does the wind blow? That's a big factor as the one is heading west and the other is heading east. Two weeks of a head wind isn't something I romanticise over when thinking about these trips.
The thought of riding through such magnificent and new capital cities as Vienna, Bratislava and Budapest is very exciting indeed. Contrast that with the varying languages, foods, cultures and landscapes and arguably the perfect montage of memories is built for a lifetime in just one trip.
When To Go
Another key decision is when to go. Summer is busy and very hot in Eastern Europe and whilst this has its appeal, it does also bring with it potential extra costs and maybe even overcrowding at hot and sticky camp sites. A trip earlier in the summer such as May, opens up the options but also increases the chances of a bit of rain and increased wind. That old chestnut again. Certainly a bit more research is required either way.
So what next? A bit more YouTube, a few more books and then I will make a decision. Let me know in the comments if you have a view!